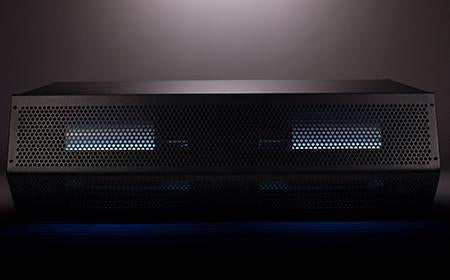 STD260-2UA-OB-UVP (60" | Unheated | 115/1/60)
Save

$336.50
Save

$336.50
Original price
$3,365.00
-
Original price
$3,365.00
Mars Accessory, STD260-2UA-OB-UVP, 60", Standard 2 Ultra Violet Air Curtain, Unheated, 115v, 1PH, 60Hz, Obsidian Black
This product is also available in the following colors.
Color: Pearl White, Titanium Silver

STD2 60" Ultra Violet Air Curtain

The STD2 Ultra Violet Air Curtain is specifically designed with the patented Sanuvox   UVC/UVV light that disinfects the air stream preventing and destroying bacteria, mold and virus. Eliminate kitchen, bathroom, garbage and lingering odors. UVC Germicidal destroys biological contaminants with 99.99% of airborne bio-contaminants in multiple passes.  Reduce and/or eradicate TB, Listeria, Samonella, MRSA and Serratia Marcescens, as well as SARS-COV and COVID-19 through continual air exposures. The STD2 UV Air Curtain is only 10 11/16" high X 20 15-16" deep with widths from 36" - 72". Available for ambient units ONLY. Units will include: Variable speed control with disinfection setting, 24v control with 99-018 magnetic reed and cord/plug. Standard color is a power coated black metal but available in white, silver or 304 Stainless Steel. Great for Customer Entry, Walk-In Coolers, Concessions & Drive Up Windows, Restaurants & FoodService, Retail & Office, Convenience & Grocery, Produce Farms and Cannabis Cultivators, and Residential.
Product Resources:
Mars UVC Clean Air Series Brochure
  
If you need more information about an accessory or replacement part, give us a call at (866) 402-1642.